During the month of November the Catholic Church commemorates all who have departed from this life. It is a time for us to remember all family and friends who have passed away.
Prayer for the departed this month
Eternal Rest grant unto them, O Lord, and let perpetual light shine upon them. May they rest in peace!
Welcome to the Week 7, Term 4 newsletter. It is hard to believe there is only three weeks left of the school year.
Last Wednesday, I had the pleasure of spending most of the day with the Junior Jimmies children. This was their 9th and longest transition session with us so far, as they were at school until the end of lunchtime. In the morning, our Junior Jimmies played with building blocks and learnt how to use bee bots (the start of coding). They then spent time in the Reception Class completing alphabet activities and colouring in. After visiting the Reception Class they watched the Year 3/4 Class using drones, then had story time. After recess, Mrs Wardle made Christmas Crowns with them and then they rejoined the Reception Class for Maths, where they used blocks to measure how long many items were. We look forward to seeing the Junior Jimmies this Wednesday for their final and full day transition before they start school next year.
Next Wednesday, 6th December two of our new 2024 teachers will visit. Mr Zack Taylor will spend time with the 2024 Year 4 Class and Miss Georgia Parisotto will spend time with the 2024 Year 5/6 Class. We look forward to hosting them this week.
This Wednesday, our Year 5 students will have the opportunity to present their speeches for the role of School and Sports Captains for 2024. This will take place after lunch in the Learning Centre.
End of Year Special Assembly – Carols
On our last day of school, Thursday 14th December, each class will perform carols. All parents are welcome to join us at 2:30pm to sing along. We look forward to seeing you there.
Student Reports
Student reports will be sent home on Wednesday 13th December (Week 9). If you have any questions or concerns, please organise a time to meet with your child's teacher before the end of the year.
Volunteer Catering with Nickie Mead
Six students from the Year 5/6 class gave up their time to assist as waitstaff during a lunch for Kavanagh Catering on Monday 13th November. The event was held at the Jamestown Football Clubrooms, coordinated by Malcolm and Margaret Sparks. The lunch was for individuals that are widowed, have no family or are elderly.
The initiative shown by these students on the day was commendable and we have received many appreciative comments on how they conducted themselves. In the true spirit of St Vincent de Paul, the students and parent helpers, Tammi and Jodie, decided that the money they would have been paid to undertake the work, will go towards buying gifts and under the St James Giving Tree for children in need. Thank you to Kavanagh Catering for the opportunity this provided for our students. It was an invaluable experience for them.
New Emu Crossing for St James School
Works on the new Emu (pedestrian) Crossing on King Edward Tce are progressing well. The upgrade to the underground drainage has been completed and works on the new crossing, footpaths and guttering are taking shape. The works should be finished in early December. I ask that the school community continues to be patient while this occurs, as parking at the front of the school is affected. Please observe the speed signs for safety and to help keep the dust down.
Illnesses at School
Unfortunately, the illnesses that have trouble many of our students have continued to spread. Illnesses include conjunctivitis and gastro. If your child/ren are unwell, please keep them at home. Both conjunctivitis and gastro are very contagious. If your child has conjunctivitis they must stay away from school while they have discharge from their eyes. If your child has had gastro, they must be excluded from school until no vomiting or diarrhoea has occurred for a period of at least 24 hours. Children will be reminded to practice good hygiene including handwashing and minimising the need to touch their face.
Staffing Update and Class Structures for 2024
Specialist Subjects and Teachers for 2024 have been made and these include;
AUSLAN - Mrs Sandra Gresch
Health and Physical Education – Mr Jed Sutter
Music with Mr Paul Gibson (with Mr Wrobel supervising) – Term 1
Mr Evan Wrobel to teach one specialist subject in each class during Term 2-4
Blessing of the Cribs – Family Mass
On Sunday, 10th December, we invite families to join the parish in Mass at 9am at St James Church. Students and families will be invited to read and participate in the Mass, as well as have the opportunity to bring along a crib, their nativity scenes (or part of) from home to blessed by Fr Harold. If you intend to join us for the Mass and you think your children might like to be involved, please let Mrs Ally Kelly know.
Giving Tree
The St. James Giving Tree has been set up in the Front Office; This is our last fundraising effort for the year to go to St. Vincent De Paul. We are asking our school community to please donate something to go towards families in our local communities that are struggling at this time of the year. For example: non-perishable food or a gift. These gifts do not need to be wrapped, as unfortunately if they are wrapped, they do have to unwrap them again before giving to the children to ensure they are appropriate. We will be collecting gifts and donations up until Wednesday of Week 8, 6th December.
Thanksgiving Mass and Year 6 Graduation – Tuesday 12th December
Our Thanksgiving Mass and Year 6 Graduation will be in Week 9, on Tuesday 12th December at 6pm in the Church. For those who are new to our school community, it is one of the most important and popular events in the school year. All students and families are expected to attend in their traditional summer uniform (shirts tucked in). As this is a family event each child must be accompanied by an adult. Students will meet their class teacher in their classroom at 5:45pm. Teachers will bring classes to the Church and they will sit in their class groups. Each family will be asked to bring a plate of food to share. This can be dropped off at the Learning Centre Kitchen at 5:45pm or during the school day. Families with surnames between A - L can bring a sweet. Families with surnames between M - Z can bring a savoury (if families wish to swap the meal they have been asked to provide eg. sweet or savoury, feel free to make your own swap with another family). We ask the Year 5 families to assist with the clean up and pack of the shared meal, in order for the parents of the Year 6 students to see the whole Year 6 Graduation. The proceedings of the evening includes;
5:45 – Students to meet class teachers in classrooms
6:00 – Mass in Church
7:00 – Shared Picnic style meal
7:30 – Year 6 Graduation in Church Hall, End of year awards and Thank You's.
8:00 – Event concludes
If your family is unable to attend, please contact the principal via email (principal@stjames.catholic.edu.au), send a note into the office or phone the school.
YEAR 1/2 SNAPSHOT
Last Friday the Year 1/2 class went on an excursion with the Reception Class. We travelled by bus to the Wirrabara playground where we enjoyed fruit, recess and a long play. We then went to the Stone Hut petting zoo and aviary. The students enjoyed spending time with the different animals – the kangaroos and lizards seemed to be the favourite! We took our lunch from Stone Hut to the Laura playground. After a play there we returned to school. The Year 1's stayed for dinner after school and the Year 2's stayed for a sleepover. All students looked to have a lovely day and enjoyed spending time together in the sun.
SCHOOL NEWS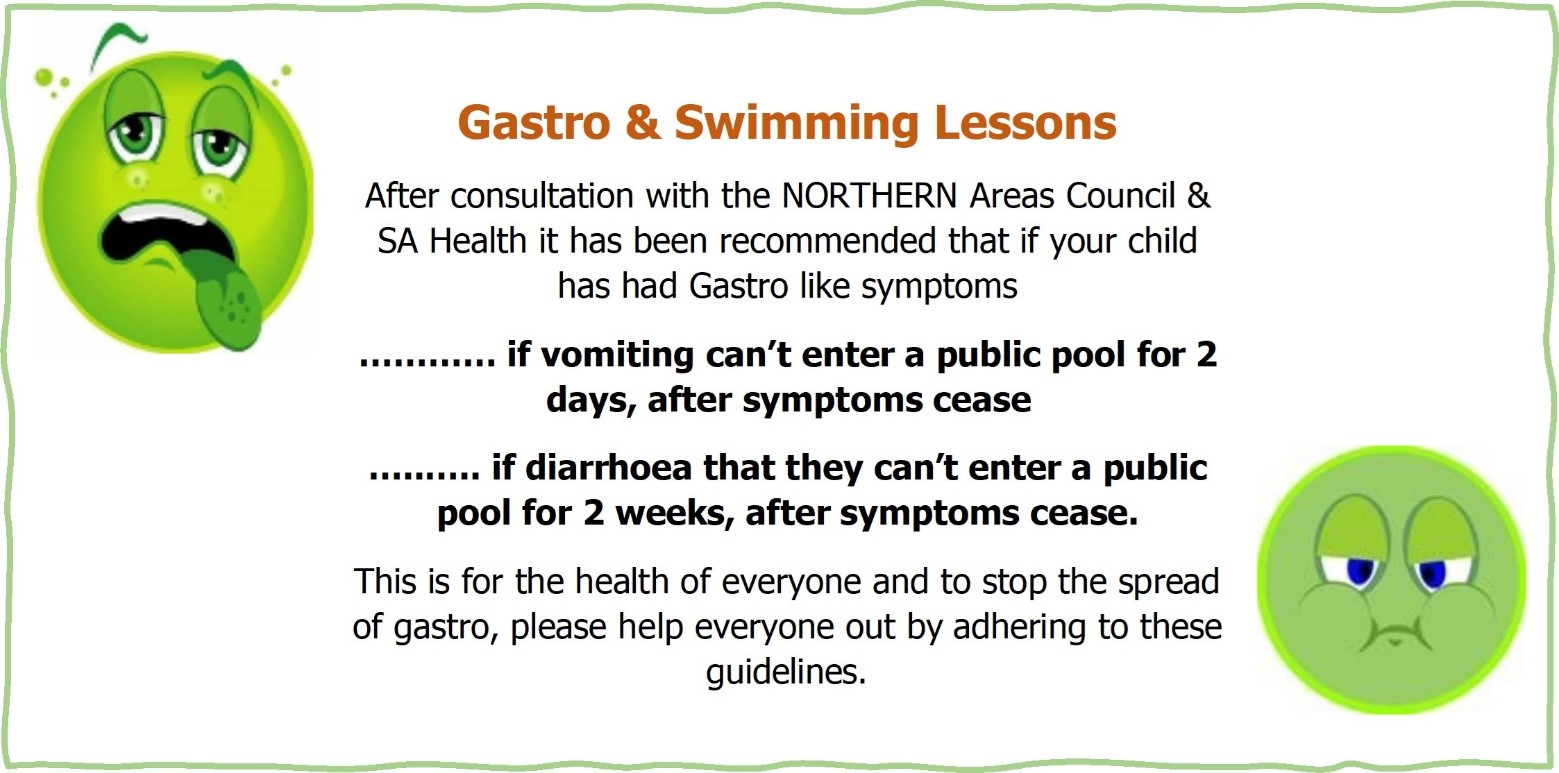 Swimming Program and Splash Day
The annual Swimming Program begins next week and Splash Day takes place on the last Wednesday of the school year, 13th December. All families recently received paper copies of excursion forms for the Swimming Program and Splash Day. Thank you to the families who have already sent to forms back to school. The decision was made to use paper forms instead of the usual Operoo eForm as the swimming instructors need access to information about each student who is taking part. We ask that these are signed and return to school as soon as possible.
Assembly – led by Year 5/6
All families and grandparents are welcome to attend Assembly this Friday, 1st December at 2:40pm in the Learning Centre. We look forward to hearing about their learning.
Christmas Pageant – Sunday 3rd December
All Students are invited to take part in the St. James Christmas Pageant Float this Sunday 3rd December. Students will need to meet at the Church Hall carpark at 4:30pm. An Operoo notification was sent out to families recently, to indicate if their children can take part.
School Closure Day – 15th December
Our school will have a school closure day on Friday 15th December. This will be devoted to student learning data analysis and student handover. The last day for the school year for students will be on Thursday 14th December.
Carols in the Park – Sunday 17th December
On Sunday, 17th December at 8pm, students from all year levels are invited to join the School Choir to perform at the Community Carols in Memorial Park. We will perform 2 songs. These carols are being learnt during our music lessons this term. It would be great to see as many students as possible join us to share in this event. We will need to confirm numbers closer to the end of term - all are encouraged to represent our school and share some Christmas joy. Please let Mrs Wurst know, via Operoo, if your child can join in the fun. Come along and enjoy the whole event!
PARENTS AND FRIENDS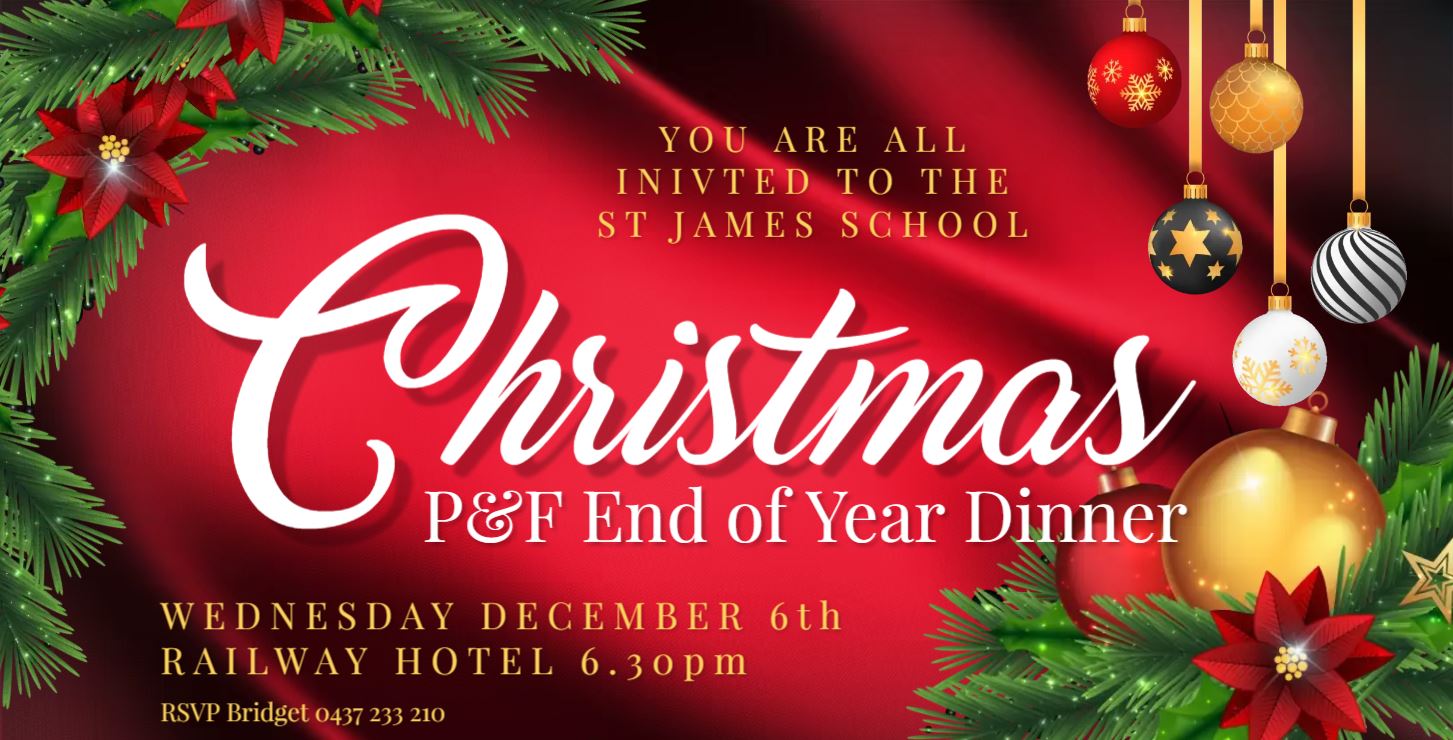 P & F Christmas Dinner
All are welcome to attend the St James P & F Christmas dinner on Wednesday the 6th of December at the Railway Hotel Jamestown for a 6pm start.
Ginger Bread House Orders
Thank you to all who supported our last fundraiser of the year. Orders have been sent off and ginger bread houses will be available for pick up during the last week of school. A text message will be sent out closer to the time with and exact date.
Op Shop Drop Off
SPORTS NEWS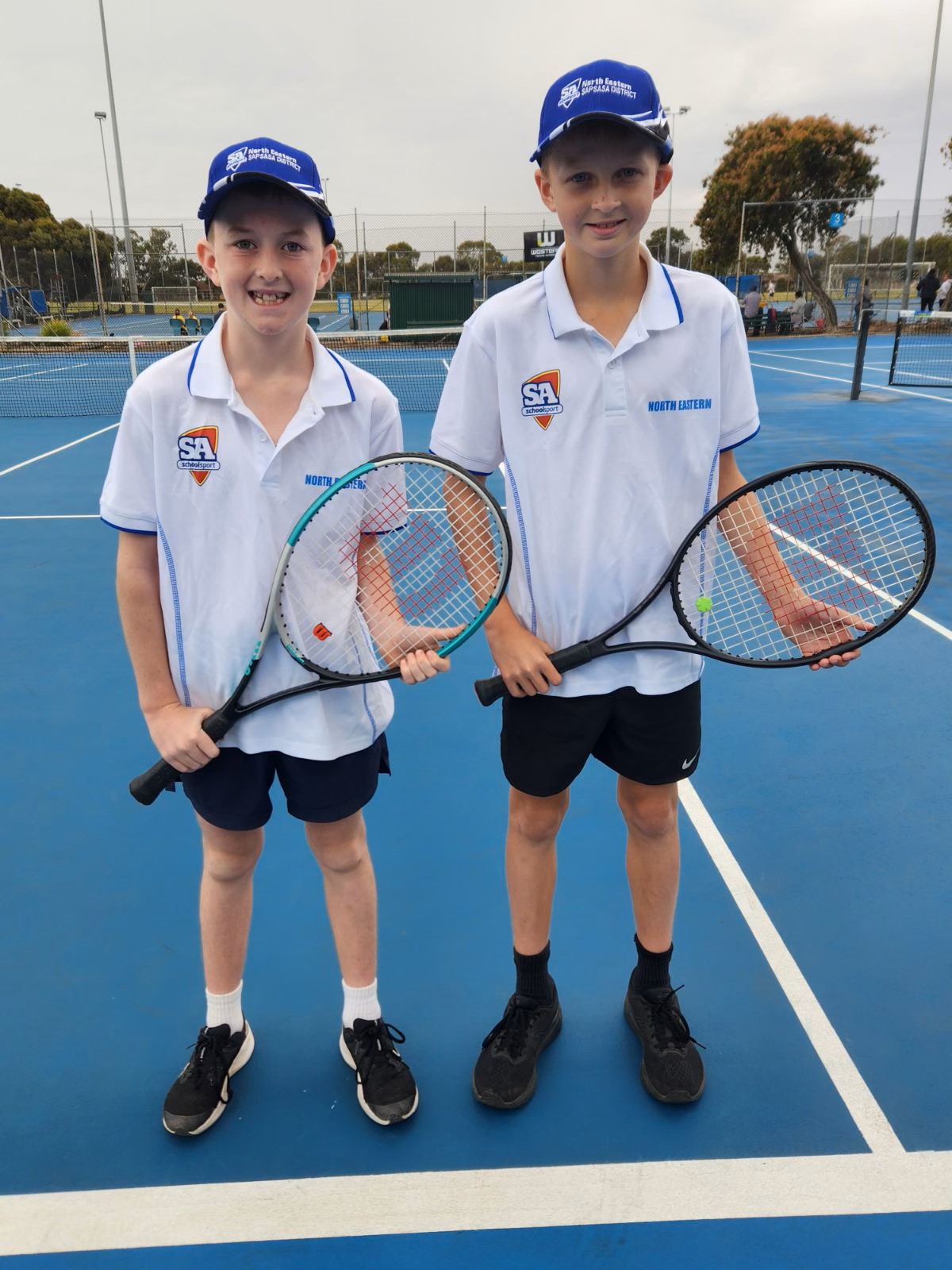 SAPSASA Tennis
Last week, Ethan and Hugh S travelled to Adelaide to compete in SAPSASA Tennis. Unfortunately the weather provided a challenge for the students and they were washed out on the first day, but were able to play some games on the second day. Despite the rain, it sounds like both students had a fun time engaging with other students from the North Eastern district and finished 5th overall. Well done boys.
Embrace Kids Screening
On Tuesday last week, we gave our Year 3-6 students the opportunity to watch and engage with the Embrace Kids documentary, by Taryn Brumfitt. We were so pleased that Year 3-6 students from JCS were able to join us and share a common ground on encouraging positive body image within the Jamestown community. Thank you to Mrs Taylor and Mrs Hunt from JCS for bringing the students across. We look forward to continuing this learning within all our classrooms.